Thursday, September 11, 2014
Hello, Memory Bound Friends!
Phew...after yesterday's post on Graphic 45, can you believe I have more G45 product to share with you?! So much goodness couldn't fit in just one post!
The long awaited 12x12 paper packs of Graphic 45's
Baby 2 Bride are now at the store!
Why only a 12x12 pack? Why does this collection look familiar?
Back by popular demand, Graphic 45 has revamped Classic Collections in a Deluxe Collector's Edition Pack. The much requested and eagerly anticipated Deluxe Collection of Baby 2 Bride has arrived!
Baby 2 Bride was the first collection released by Graphic 45, now including newly created chipboard and stickers with this beautiful, 12 double-sided page vintage collection to celebrate the unforgettable time and endless love of growing children.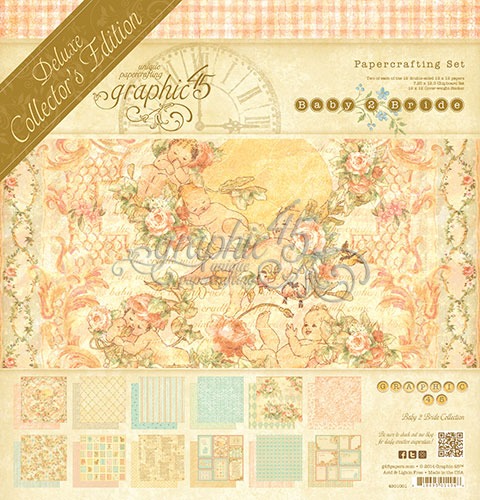 It's amazing how this paper is perfect for babies and brides!
******************************
Another Deluxe Collector's Edition Times Nouveau has arrived at the store. Again it is in 12x12 paper pack that also includes
newly created chipboard and sticker pieces.
This is a limited time re-release of our journey back to the Roaring Twenties. Rich colors, beautiful images, and glad rags take us back to this glorious era. Get this quick, this is sure to be a "Hot Tomato!"
I love this layout! If you have or will be working on a heritage album, this paper will be a great addition!
Hope you have enjoyed the two days of Graphic 45! If you would like us to put something to the side for you or can't make it to the store, give us a call at 515-965-1102 and we would be more than happy to help you out!