Friday, January 31, 2014
Hello, Memory Bound Friends!
You have to check out these fun idea books that are hot off the press and in our store!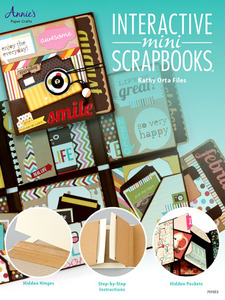 The first book I am super excited about is
Interactive Mini Scrapbooks by Kathy Orta.
If you haven't heard of Kathy Orta, she creates AMAZING scrapbooks and mini scrapbooks that contain loads of pockets, pull-outs, tags and pages. This book has step-by-step directions and pictures showing how to create these great little projects! Once you have created one, you won't want to stop! The mini books are great for birthdays, weddings, travel, holidays and many other occasions! Oh...and you will learn the "hidden hinge" technique! Love it!!!
If you want to check out Kathy Orta sharing her excitement about here new book and get a look on the inside, click
here
!
Another new book is Interactive Cards 2!
If you are a card maker, you will love to create these cards that have actual moving parts such as the slider, pop-up, springfold, stair-step, and spinner...oh my! Check out some of the fun cards that you will be able to create after following the easy step-by-step directions in this fun book!
Hope to see you at the store soon!
Remember, if you cannot make it to the store and would like one of these books, give us a call at 515-965-1102 and we will put one to the side for you! Don't forget, for a low cost, we are also willing to ship an item to you!